6th November 2021
We had Two Belgrave women's teams made the trip to Reigate to compete in what is one of my favourite team events for Cross Country with a mix of hills, mud and fast sections.
A good testing 4km course against the backdrop of beautiful autumnal trees, excellent and friendly organisation by the home club Reigate Priory, and since returning to the venue in 2014, we tend to score well at this event.
Olivia Papaioannou and Natalie Beadle gave the two Belles teams the best possible start. It's not easy to judge the pace on the first leg with the women and men starting together but both runners played it perfectly. Liv headed the women's race by 15 seconds and Natalie was less than 40 seconds behind in 6th but in touch with the other teams.
It was a lead that the A-team never relinquished and Samantha Amend, just two weeks after my 24-hour race, showed resilience to maintain the lead and run the sixth fastest leg of the afternoon. In her first race for Belgrave, new member Patricia Walker illustrated our strength in depth by passing four teams and brought our B-team up to second place. We had another talented new member, Lea Adamson, on the final leg who despite being isolated, ran the third fastest of the day, to bring our team home a minute and a half clear in first place. We benefited to the B team also getting bronze place.
Teams
1. Belgrave 'A' 48:52, (L. Papaioannou 16:10, S. Amend 16:32, L. Adamson 16:10), 2. Guildford and Godalming 50:26, 3. Belgrave 'B' 50:41, (N. Beadle 16:49, P. Walker 16:04, J. Levertaviciute 17:53).
Sat 20th November 2021 – London Championships
Belgrave's women won the London cross country championships at Parliament Hill, with winning individual me also gold for fastest masters athlete.
This was believed to be the first time that a Belgrave team had even medalled in these SEAA Championships, let alone ever won. What a result !!!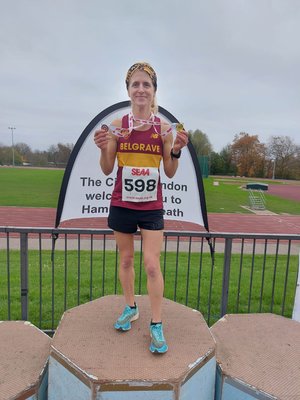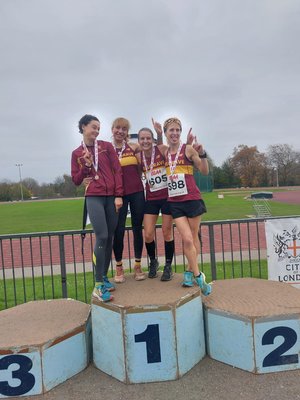 Celebrating our win, Rachel, Liv, Sarah & Sam
With little rain over the last week or so, Parliament Hill was fairly benign, muddy in parts, but many of the paths were quite hard and dry. Of course, it's still not an easy circuit with its twists and turns and tough hills.
Belgrave were led home by Rachel Brown and Olivia Papaioannou in 6th and 7th place after a furious sprint for the line narrowly won by Rachel. Then in 21st place came Jess Saunders improving her speed with every race after her excellent marathon in October. In 24th, working through the field very strongly after the first lap, left the other vets behind to easily claim gold in that category.
Our team manager Charlie had totted up the scores as the runners finished and told the team he thought they may have got second or third. They were then led off on a very long warm down by ultra-runner Sam while the official results were being checked. When at last the results appeared, he realised he had mistaken the blue vest of the Cambridge Harrier winner for a TVH athlete, thinking TVH had won. So, when Sam eventually brought the team back after their warm down, Charlie said:
"Sorry, I made a mistake, you didn't get 2nd or 3rd place,"
Crestfallen faces, a long pause and then,
"YOU WON!
INDIVIDUAL RESULTS
1. H. Dixon (Cambridge H) 22:19, 2. G Holden (QPH) 22:41, 3. H. Cox (Fulham) 22:48,….6. R. Brown 23:08, 7. O. Papaioannou 23:09, 21. J. Saunders 23:46, 24. S. Amend 23:51, 34. E-M. Hards 24:37, 60. S. Dewhirst 25:27, 91. B. Brown 26:34. 289 finished.
TEAMS
Belgrave Harriers 58, 2. Thames Valley Harriers 63, 3. London Heathside 89.
Comments
comments