This was a race I wasn't expecting to squeeze in so soon and probably for most one race too many. Having attempted the British record in September and failing due to the heat, I wanted to at least go for a qualification. After a number of factors conspired against me during Battersea in September with exhaustion, period and nausea I wanted to finish the year of " ultra's" more positive.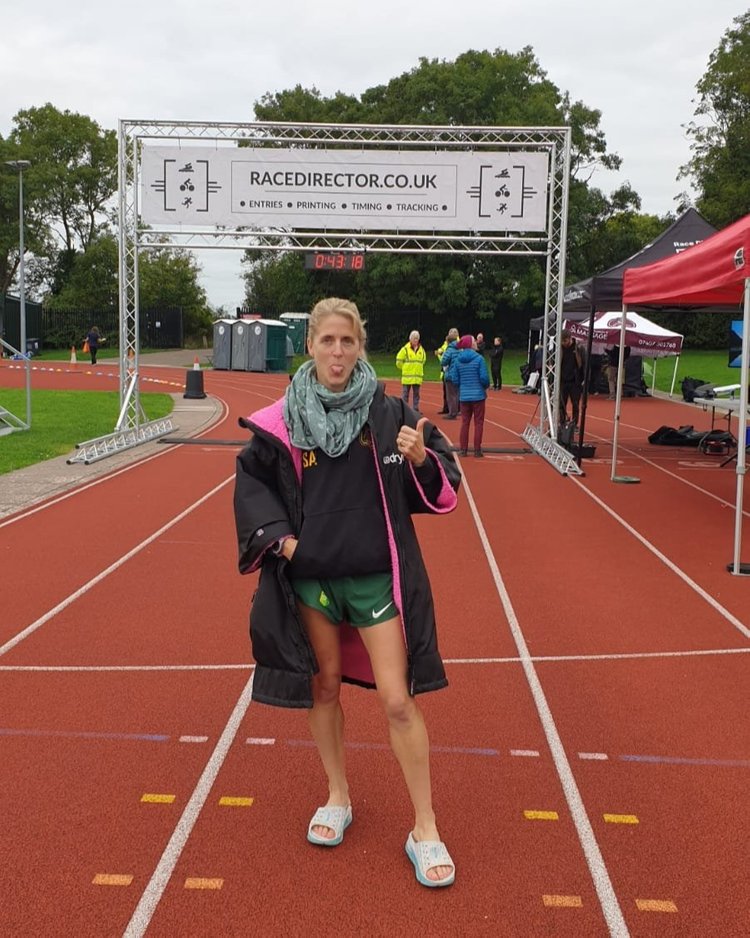 I'm a prolific racer and you can get away with that when it's short races. But it's a different story for ultra distances and, having run 100+mile races three times already this year, I knew this would me my final attempt at the 24hr discipline for some time. In truth I never wanted to be running another 24hr this year – and certainly not around a track again. But this one was relatively close to home which meant it'd be easier for my crew and less stressful for me.
As much as I wanted to shoot for the British record, my main goal was 1) finishing, and 2) improving on my last result and a PB. The British record would be a bonus after such a disappointment at Battersea last month.
Nutrition
My nutrition plan looked better than last time. Having spent time talking with an expert, it was just a matter of sticking to the plan. 
During the race I managed to regularly eat something small every hour (thanks to my amazing crew Jo and Trev for ensuring this went well) and then some warm food like pasta, but fewer gels this time. It's so hard to get the formula right and its always worth trying different options until you get the right mix. I had more solids like bread and tried ginger to help with stomach sickness.
Strategy
I kept my pace consistent and much slower from the gun, sticking between 8:00 and 8:30 miling. The main challenge to my pace was the weather: strong wind and grey skies.  At least there was no rain until the last hour when sunrise came. So a lot of time was spent running in the dark, around and around a track.  For anyone who hasn't run ultra distances on a track, the hour and hours of seemingly endless turns in the same direction really take their toll on the body.
The race
Although I preferred the cooler conditions to Battersea in September, I had to factor in that when tired and fatigued that you get very cold. I ended up taking a rest spell in the middle of the night due to feeling hypothermic and then a few hours later a massage for 30 minutes. Ultimately it cost me the win, but I'm convinced it saved my race in the long run!
So for the next 9hrs I was back on the track running and also trying to get my nutrition back on track too. My mental target was to get past 100 miles, and then the 200km threshold, and then it was to shoot for as much as I could to the 220km target for GB selection. In my last lap we were told 2 mins until the horn and I managed to get around in 1:39 and an average 2:35 per lap. If only I hadn't napped! Having been selected the last 3 years and having missed 2019 due to a back fracture and then 2020 and 2021 to Covid, this race meant a lot to finish.
All my crew and support around the track really pushed me along to keep going through the toughest parts. I'm proud to say I made the cut for international selection with a PB of 223.200km (138.690 miles) but sadly ran out of time reach 139 miles and get a good marker down for shooting to the next target of the British record next year.
It's been a busy but fun year of racing. I'll finish it off with a few shorter club races, ready for whatever 2022 holds. Happily, apart from a few aches and stiffness I've come away unscathed and will be back jogging in a few days once the fatigue has passed.
RESULTS
Norbert Mihalik 157.082 miles / 252.800km
Gareth Pritchard 147.389 / 237.2000
Joanna Murphy 143.412 / 230.800
Samantha Amend 138.938 / 223.600
Mark Bissell 133.221 / 214.400
A total of 18 runners started the race. Full results via Race Director: https://results.racedirector.co.uk/gloucester-elite-track-24-2021/24-hour-elite-track-race-23-10-2021.html
Comments
comments